Module:Gloomhaven: Jaws of the Lion
From Vassal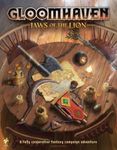 Files
Module Information
| | |
| --- | --- |
| Maintainer | gattsu |
| Contributors | igor444 |
Comments
Gloomhaven: Jaws of the Lion is a standalone game that takes place before the events of Gloomhaven. The game includes four new characters — Valrath Red Guard (tank, crowd control), Inox Hatchet (ranged damage), Human Voidwarden (support, mind-control), and Quatryl Demolitionist (melee damage, obstacle manipulation) — that can also be used in the original Gloomhaven game.
Version 1.0 First Release of Jaws of the Lion.
Added Lv 5-9 class cards. These are on separate tabs from the Lv 1-4 cards to avoid spoilers
Added tokens (1 per class) to represent locked character boxes
Added all Scenarios and Stickers
Added Initiative Tracker
© 2020 Cephalofair Games. All rights reserved. Included by permission of the publisher
Please support Cephalofair Games!
Publisher BGG Gloomhaven Module
Screen Shots
Players