Module:Glory II: Across the Rappahannock
From Vassal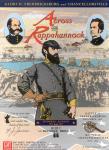 Files
|- | Across the Rappahannock 2.0.vmod | Module | class="module_file_size" | 12.17 MB | class="module_file_date" | unknown | class="module_file_compat" | 3.2.17 |}
Module Information
| | |
| --- | --- |
| Maintainer | unknown |
| Contributors | kwcoombs |
Comments
v2.1: Added box art to splash screen.
Many thanks to GMT for giving me permission to create this module.
NOW AVAILABLE: Across the Rappahannock Version 2.0. This new version uses map and counter artwork supplied by GMT, and utilizes the new functionality provided by the latest VASSAL engine.
If you would like to receive e-mails when updates are made to modules in the Glory series, simply add your name to the Players section.
Screen Shots
Players
czmielon
Stiglr
kwcoombs
pzlehr
lucignon
REW
DRZ
PNMarkW2
beast013
Cherper
SgtStinky
buffmeister
xrubio
daxelos
CMV233
BugDany
cornjob
pioruncarl
MikeO
wadereckman