Module:Greenland
From Vassal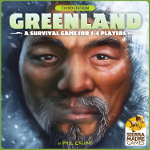 Files
Comments
Greenland by Phil Eklund (SMG, 2014). Greenland 2nd edition with Sea Sami expansion by Phil Eklund (SMG, 2015). Greenland 3rd edition by Phil Eklund (SMG, 2018). Published with permission.
Release Notes:
version 1.0 released on 14 July 2014, for original Greenland edition.
version 2.0 released on 29 November 2015, for Greenland 2nd Edition with Sea Sami expansion
version 2.1 released on 21 December 2016, with some bug fixes and improvements, see File:Greenland 2.1 release notes.txt.
version 3.0 released on 14 January 2019, for Greenland 3rd Edition
version 3.1 released on 28 February 2020, with Skill Tracking functionality, toolbar icons, Trophys area and revised tribesmen/Valhalla functionality
version 3.2 released on 3 April 2020, with a fix for the missing Valhalla tribesmen
Please check the HELP/READ ME window in the module for detailed instructions. Also look for the dedicated threads on the Greenland 3rd Edition forum on boardgamegeek.com
Screen Shots
Players