Module:Guadalajara
From Vassal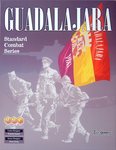 Files and Module Information
Filename
Filetype
Size
Date
Compatibility
Developer
Other Contributors
2.2
Guad_v2_2.vmod
Module
7.29 MB
05OCT21
VASSAL 3.5.8
Jim Pyle
2.1
Guad_v2_1.vmod
Module
7.28 MB
30MAR20
unknown
Jim Pyle
2.0
Guad_v2_0.vmod
Module
7.28 MB
14DEC18
unknown
Jim Pyle
kishel
1.1
Guad_v1_1.vmod
Module
7.2 MB
unknown
unknown
kishel
1.0
Guad_v1_0.vmod
Module
6.66 MB
unknown
unknown
kishel
Comments
ver 2.2 changes
1. Made some minor corrections to scenarios 1 & 2 setups
2. Fixed Italian trucks to allow Change Text Label
ver 2.1 has the following changes:
1. Updated scenario setups provided by Steve Rowe
2. Added a Map Overview button
Ver 2.0 has the following changes: 1. Added Scenario setups
2. Changed name of three trucks from Armored Car to truck
3. Added "Change Label" feature to all markers and unit counters
4. Made color coded DGs and OOSs
5. Added buttons to delete Republican and Nationalists DG markers on the map
6. Consolidated the multiple K-tex markers into one K-tex marker that you can change the color of by using Ctrl-a or Ctrl-z
7. Moved Italian air units from Spanish section of units to Italian "Corps Assets"
8. Added VP Control markers

With permission of MMP
Screen Shots
Players
kishel
xrubio
leeforester
daxelos
zovs66
Don Lazov
Steve Rowe