Module:Guadalcanal
From Vassal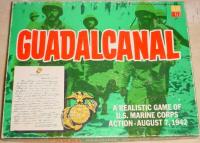 Files
Module Information
| | |
| --- | --- |
| Maintainer | cgmclellan |
| Contributors | cgmclellan |
Comments
This module is created from conversion of the ADC2 module using VASSAL 3.1.0-Beta2.
I am not familiar enough with VASSAL to reduce the module's size. Perhaps others can assist.
For the Japanese units to be visible, players must login as one of the Japanese players. I have not tested how the Japanese hidden units work in this module. With ADC2 they only become visible to a US player when he enters a hidden Japanese unit's hex.
The on board chart numbers can be flipped in only one direction as opposed to ADC2 bi-directional counters.
The rules, charts, and variants are provided in the files.
AH's 1966 version
Screen Shots
Players