Module:Gunslinger
From Vassal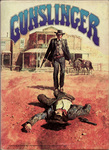 Files and Module Information
Comments
Skirmish Wargaming in the Wild West
Click here for more info.
Notes on Version 1.9.3DC I will be uploading the version of the Gunslinger module that the group I play with has been using (in varying versions) for several years. What is here is the latest (except for an experimental "double-blind" version of the module which has only been tested once; it worked, but was VERY cumbersome to use). Razor has been working on his own module for his group, and has uploaded a 1.9.2 version; and I understand he will have a 1.9.3 version coming shortly. I have labeled my version 1.9.3DC to distinguish it from Razor's version. They have been developed in parallel, and contain some of the same elements, and some different ones. On BGG, Razor (Nate) have exchanged a couple of messages about the possibility of figuring out a "combined best of" version eventually. For example, I really like what is in Nate's module regarding Hunting and RP rules (things which my group has been doing outside of the To this end, if you try both versions, please let us know what your favorite parts of each module are! Thanks!
1. Add ammo caliber option to ammo sources
2. Add target option to AIM markers; made them generic, with player number selectable and selection changes marker color. Options are now AIM, SHT, BR, THR
3. Correct one of the P36c handguns to Texas Paterson instead of Colt Navy
4. Add capacity note to Holstered boxes
5. Made character labels on Legend Sheet and Cards Table immoveable
6. Added speed and momentum markers to Horse counters
7. Added separate Legend Sheet for horses
8. Added B10 cards (CONTROL HORSE) for each player
9. Added Rider and Passenger stations for each player on Horse Legend Sheet
10. Reorganized Counters window, separated Horses from Animals, added Mustangs under Animals (without Horse prototype)
11. Added "Rider name" label for horses.
12. Added +4 and +5 skill levels to Legend Sheet
13. Added blank level to "level" prototype
14. Make AIM markers invisible to sides other than Aiming side (Sides must be used)
15. Redo AIM graphics and Move/Turn graphics
16. Redo all ammo prototypes
17. Redo LOAD prototypes
18. Add Strongbox, Torch, and Lantern counters (lit/unlit options for light sources)
19. Add JAM and EXP notation options on gun counters
20. Dynamite counter and Powder Keg markers added, with fuse length, countdown timer, and explode function
21. Add "get smoke", "get head", and "get direction marker" functionality to character counters
22. Cards Tables and Legend Sheet support up to 12 characters per game
23. Change "uncocked" image so it doesn't cover so much info, color changed to red
24. Add place on legend sheet to track wound cards drawn (used in RP games)
25. Selectable character numbers for all characters and for AIM/SHT/BR/THR markers; changes background colors for character labels and markers to match colors on Cards Tables and Legend Sheet
26. Added Rattlesnakes with their own Legend Sheet, Card, and Cards Tables.

Notes on Version 1.9.2
Updated previous versions based on inputs from various players that have been involved in an ongoing meet up on Wednesday nights. This group has been playing each scenario found in the rule book in turn, and based on their feedback I updated the previous modules to suit our game play. This ongoing gaming event has been going on since the start of the pandemic and has grown to several active players. If interested contact me Razor (Nate Forte) natforteg1@gmail.com.
In this updated module I added individual Player Card hands. This works best so that no one can see other player hands and their strategy. I have also added a 2nd Legend sheet for Critters and Horses and additional characters both regular and NPC. Added rules for Critters and Gunsmith from the General. Added Optional hit tables from the General. Gunsmith weapons added from previous contributor(s) and includes all of the guns found in the General Gunsmith list. Added Hunting rules Cards and a Campaign sheet used with the Hunting rules. The sheet can be hidden from other players to allow planning of Hunting Maneuvers, with the Maneuver cards created to play on the Legend sheet.
Notes on Version 1.8.4
By way of background, these changes to the GS module came about as a result of a Gunslinger role-playing campaign (starting date Jan 1867) that I am playing with a couple of friends. We are now one year into the campaign, and the changes below are based on things we thought made the game easier to play. The changes made, however, are not specific the campaign we are playing.
These changes are based on module version 1.5.2017, with additional changes based upon the excellent changes made by Ian Clarence in his version 1.5.2. I also are far from a Vassal expert, and in fact was a total novice when I began my changes, so some of the earlier changes are likely not as elegant as they should be. Additionally, I lack skills as a digital artist, so some of the graphics, while functional, are not all that pretty or polished. With that in mind, here are the significant changes between Vassal GS Module v1.5 and the v1.8.4 that I am uploading.
1. Bonus cards can be deleted (in case you happen to select the wrong one during setup).
2. Quiver ammo source added, and ammo counts added to all ammo sources (you can count down the ammo on the source as you reload a weapon).
3. Each side of action card now shows the action on reverse side
4. Masked view of action cards now shows the character number they are assigned to
5. Subtypes of guns (e.g., W44 '66 vs. w44 '73, double action version, side-load conversions) now represented by separate counters; weight class and availability dates added to counters panel.
6. B2 and B3 cards now separated by weight class (e.g., B2 medium, B3 heavy)
7. LOS tool revised to retain counters on map at about 20% opacity
8. H44 ammo changed to 16
9. 2nd floor overlays added for maps
10. Weapon counters now include ammo/loading type
11. Results cards conformed to cards in original board game (there were many differences)
12. LeMat pistol shows both primary (cylinder) and secondary (20g shotgun) ammo
13. Graphic added to count loading actions that take multiple turns
14. Rotatable move/turn marker added to show directions of turns and moves announced but not yet executed. These are specific to each character and are found in a "Character-Specific Markers" section under Counters/Characters. They also will mark Run status at two levels (to keep track of whether the character is eligible to Sprint).
15. Character label (which I used to mark character name/number) changed to non-rotating
16. Separate aim markers added for each character (marked with character number), and level with AIM but no points added (to mark hexes where aiming has begun but no points have accumulated); can be changed to SHT when a Shoot is announced.
17. Property sheets for characters are pre-populated with values from Gunslinger boardgame (but are still changeable by user). These include Fear (from game rules) and Respect (interpolated from the table in the Role-Playing rules).
18. Legend Sheet "Hand" wounds are corrected to "Arm".
19. Legend Sheet updated to include skills, turn/segment, next action segment marker, and spot for character names.
20. Cards Table updated to include spot for character names.
21. Character counters can now mark both Stamina and Delay, and all wounds, Stamina, and Delay can now be tracked on the Legend Sheet. Because of this, both Stamina and Delay can be tracked in either or both of two locations (Character counters and Legend Sheet).
22. Many new maps and overlays added. None of these are original to me; and embarrassingly, for some of them I can no longer even identify where I got them. My thanks (and apologies) to those who created these maps.
23. Smoke markers can be marked to show removal turn/segment (we play that smoke lasts two full turns, so smoke from a shot fired on Segment 3-Turn 4, lasts until the end of Segment 3-Turn 6.
24. Charts Window added with a summary of movement/delay and loss of aim effects; brawling weapons table; striking table; and impact table.

Notes on Version 1.5.3
This version adds the player aid charts to the 1.5.2 module updated by Ian Clarence (Thank you for your new updates Ian).
Changes from version 1.5.2:-
Player Aid Cards tabbed button added
Player Aid Card 1 - Added
Player Aid Card 1 Back - Added
Player Aid Card 2 - Added
Player Aid Card 3 - Added
Player Aid Card 4 - Added

Notes on Version 1.5.2
This version was created from version 1.5 to improve ease-of-use and fix errors in Results Cards.
Changes from version 1.5:-
Action Cards
single window replaced with one window for each character
action on card back is shown in red
Legend Sheet
"Next Action On" indicator for each character, players record next segment each character will act on
Property Sheet deleted, character skills moved to Legend Sheet
revised (space saving) Turn Counter
Combined Target/Aim points marker for each character
Character tokens now have an ID number (1-7) for quick identification
Results Cards
errors fixed (44 cards)
cards dealt face up & masking fixed
Spanish version
Based on English version from Martin Moser, although it is completely different.
-It is translated into the Spanish from Spain.
-It includes the description and display of characters, cards and weapons of the 26 scenarios of the original game, translated into Spanish.
-Renewed graphic design of both counters and cards. The only designs that remains from the original Avalon Hill game are on the game boards. These have been designed by the community of the Gunslinger game that can be found in the BGG website: Yukarija, Carl Roberts, George Mendoza, Jesús Caraballo and Héctor Caraballo.
-The firearms in this module include information not only from the original game rules, but also from the optional rules published by Avalon Hill in their magazine "The General" in September-October 1982 (Volume 19, number 3), on pages 12, 13, 46, 50, 51 and 52.
-The legend sheets are now separated in different windows. The values of the character's name, resistance, delays and permanent wounds are indicated numerically and can be modified from the character sheet itself (for permanent wounds) or from the character's token (for resistance points and delay points).
-Aim points are indicated with a marker that has the name of the character who is aiming.
-The elevation levels include a blank level, for purely aesthetic reasons.
-Each one of the seven players can only manipulate and move their own tokens, cards and bonus cards. A player, therefore, may not move another player's tokens and cards.
-All cards and tokens have an option to remove them from the game. This is important in the case of bonus cards, in order to avoid duplicates.
Notes on Version 1.3.2
-Added Summary of combat chart.
-Changes in some translated words in result cards and charts: Side hit = "Superficial", Light wound = "Leve", Gunbelt = "Canana".
-Changes in the translations in some showdowns.

Notes on Version 1.3.0
-Resized action cards and corrected some typos. Now the text is easier to read.
Notes on Version 1.2.0
-Added End turn button, which automatically update delay points on every character and moves forward turn marker.
-Updated End turn icon.
-Added sound effects on some buttons: Change side, End turn and Results & turns buttons.
-Added shortcuts to delay, aim, head and endurance points.
-Corrected report messages for some actions.
-Corrected minor bugs.

Notes on Version 1.1.0
-Renewed result cards. Now they are much bigger.
-Added segment control indicator.
-Changes on turn and result cards board, with the addition of a legend chart explaining result cards.
-Removed character indicator tokens, as they are not needed any longer. You can instead add character tokens.
-Whenever a player adds a character token into his or her legend sheet then the endurance and bonus points of that character are updated and shown in the legend sheet: endurance, bonus cards, melee, gun & other hand's bonus.
-Corrected minor bugs.
Notes on Version 1.0.5
-Added help charts button: Impact table, Striking table, Melee weapons, Movement and Aiming costs, all translated to Spanish.
Screen Shots
Players
matin.moser
Quiquetom
Alberto
Dmart
g0dolphins
DerDiplomat
jrmerson
motoi
tmccarron
MedievalBanquet
Alex777
CarlN0130
RolloTommasi
etopp62
warbear
rennyfencer
crward
Bozimus
JacquesFallible
DougTeach
Razor
shmcbee
paspas
Deno
KansasBoyd
mccann98
daxelos
GornTC
kipchak
Adiamant
davidk64
daveconn