Module:Hearts and Minds: Vietnam 1965-1975 (Third Edition)
From Vassal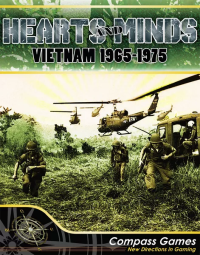 Files
Module Information
| | |
| --- | --- |
| Maintainer | Tim Porter |
| Contributors | |
Comments
A Read Me PDF file on how to use the module is on the module Help menu.
Follow the scenario instructions in the rules to complete setup. This especially applies when there are player choices during setup. However, to aid the setup of a scenario there are some helper functionality via buttons. Use the Black hat button, on the toolbar, to both distribute the black cards and to randomly deploy the VC units.
Deck preparation in 1969-1971 scenarios: Use the button in the Decks window to prepare the cards for the 1969-71 scenarios.
Credits: This module is based on the unpublished module created by César Moreno that was later modified by Milton Soong. This module was completed with the permission of César. It was subsequently modified and expanded by myself for an online Compass Games "Learn To Play" session. A shout out must go to Stan Hilinski who maintained the module for the Worthington Games editions. I have borrowed some of Stan's ideas for this module. Many thanks to all involved.
Screen Shots
Players