Module:Heights of Courage
From Vassal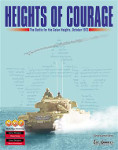 Files
Module Information
| | |
| --- | --- |
| Maintainer | John Rainey |
| Contributors | Many |
Comments
Posted with Permission from The Gamers\MMP. Please submit issues to the maintainer email listed above.
In October, 1973, Syria and her allies lead a surprise attack to recapture the Golan Heights in conjunction with an Egyptian assault across the Suez Canal into the Sinai. Heights of Courage is a game covering the Golan Heights portion of this war—one of the largest armored clashes to occur since the end of World War II.
The Standard Combat Series (SCS) enables both experienced and beginning players to enjoy simple to play and quick to learn games. Each game is a quick-start, complete simulation: rules, a detailed color map, 280 counters, and everything else needed to recreate the campaign in question.
Screen Shots
Players