Module:HeroQuest
From Vassal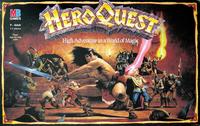 Files
Module Information
| | |
| --- | --- |
| Maintainer | LurchBrick |
| Contributors | LurchBrick |
Comments
Lite RPG board game created by Milton Bradley in the 1980's
Welcome to the HQ Vassal mod.
This module would never have gotten made without the input of:
Old Scratch, Wolf & HeroQuestFrance for the miniature model photos, not to forget the makers of the Italian HQ module who supplied some of the missing expansion pack miniatures, and special mention to Malechi for all the scanned materials found within.
I'd also like to thank the makers of the Vassal of the Ring module for their idea to include a World timezone map. This is a great idea to help players synchronise times with others around the world.
I hope you enjoy playing this module as much as I did creating it.
Introduction
HeroQuest was a boardgame created by Milton Bradley and Games Workshop. It is a simplified version of a role playing game.
Basic Synopsis:
Four heroes battle through a series of quests, fighting monsters, falling foul of traps, searching for treasure to gain wealth and equipment.
The main game contained 14 quests. Further expansion packs were sold which contained more quests, monsters, traps, and rule additions.
Currently, this module contains all you will need to play all released materials including the main game, Kellar's Keep, Return of the Witch Lord, Against the Ogre Horde, Barbarian Quest pack, Elf Quest pack and Wizards of Morcar expansion packs.
Links
If you have any issues or feature requests, go here:
Screen Shots
Players
LurchBrick
Luisoyo
Shrike
Yusepp
jll1024
yukonhermit
rayofash
davetron
glasper
deaneubanks
soldan
Zalgiris
rodkstewart
pasman
DeaconBlues
Waruko
Morpheuskom
Taurin
philmcd
DrixDK
DougTeach
Templlord
raestuart
DirkDastardly3
JFarceur
thegame1249
aonghus
Pcktkite
Jocaud
TheSpoonyBard
Clutch
sortilege
Shadowolf
scarecrow75
kiketom
mbiella
Beregrim
Oldgamer
yankeeap
Adaman
mutmuten
Wolframio
Element115
Lachre
Lachre
scream11605
Hibiko
AlejandroFarnesio
GornTC
Marpozio
davidk64