Module:Heroes of Terrinoth
From Vassal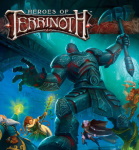 Files
Module Information
Comments
Important: You need a physical copy of the game to use this module. In order to comply with FFG's policy, all the Condition Cards are removed from this module.

Heroes of Terrinoth is a cooperative card game of questing and adventure that invites you and up to three allies to take on the role of unique heroes, choosing from twelve distinct and powerful heroes, split between four archetypes — healer, warrior, mage, and scout. These archetypes are further diversified into different classes that your heroes can pursue as your power grows. Regardless of which archetype and class you embrace, you and your friends must combine your powers, leaning on one another's strengths to survive your journeys and defeat the enemies who stand against you. Over the course of eight thrilling quests, you will face villainous foes, battle deadly creatures, and save the realm!
Version 1.0 This is the first version of a fan made Vassal module for "Heroes of Terrinoth".
© 2018 Fantasy Flight Games. All rights reserved.
Screen Shots
Players