Module:Hoplite
From Vassal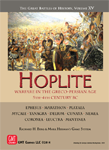 Files
Filename
Filetype
Size
Date
Compatibility
1.0.1
Hoplite101.vmod
Module
27.44 MB
2020-10-19
3.4.6
1.0
Hoplite.vmod
Module
27.44 MB
2014-07-08
3.2.11
Module Information
| | |
| --- | --- |
| Maintainer | Brendan Clark |
| Contributors | Brendan Clark, Gabriele Callari |
Comments
Hoplite is the 15th volume in the Great Battles of History series (GBoH) of games, allowing players to recreate classic battles from the pre-Alexandrian Greco-Persian Age, the heydey of the Hoplite (heavy infantry fighting in dense formation), a period that is often considered the birth of Western Warfare, in contrast to the Persian/Eastern style, which relied on archery, light cavalry and mobility.
For information on counter manipulation in this module, see the Short Intro file, which can be found via the Help icon on the horizontal toolbar.
Version 1.0.1 activates "Show pieces in un-rotated state" to better read mouse-over magnified pieces.
Screen Shots
Players
Brendan Clark
Rick Galli
Joshua Gottesman
Kevin Rohrer
Ricky Gray
Paul-E