Module:Horse & Musket: Dawn of an Era
From Vassal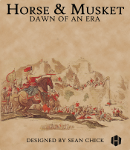 Files
Module Information
| | |
| --- | --- |
| Maintainer | David Fagnand |
| Contributors | |
Comments
Version 1.0:
With all the optional rules this is a 'sandbox' module where the user can choose how to implement the game.
The scenarios are built with the units set up for the base version. All units can be rotated to represent line or column formation and facing.
20 'In the box' Scenarios and 2 'Bonus' Scenarios.
Increased the size of the combat units and went to vertical stacking.
Combat units can be labelled for Low Ammo.
Unnamed Leaders can be named.
Added a Gold Fleurus to the counters of the Leaders that have Charisma.
Terrain can be labelled, for example: City names, rivers, comments, entry/exit hexes, etc...
Added an Eliminate Unit function and Eliminated Units Holding Box.
Version 1.1:
Added the Combat Units, Baggage Trains, Named Leaders and new Markers from Volume 2.
Added three Unit Characteristics Lines to each Combat Unit so traits like 'Matchlock', 'Pikes', 'Tenacity', 'Rough Terrain Mastery', etc. can be marked on the counter.
Added VP Label and VP Value to the VP counters.
Added VP Value to the Baggage Trains.
Added '+1/2 VP' to the back sides of the VP track counters.
Added a Bad Weather Marker for Turn Track.
Version 1.2:
Added full counter sets for each color group.
Added fourth and fifth Unit Characteristics Lines to each Combat Unit.
Added Nationality and Player Labels to CAP and VP counters.
Added optional scenario set ups that include Nationality Characteristics and suggested Line/Column formation.
Version 1.3:
Modified Vienna, Aughrim, Neerwinden, Blenheim, Almansa and Poltava scenarios to conform with Annual Number 1 (see Notes).
Screen Shots
Players