Module:Horseless Carriage
From Vassal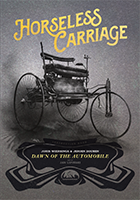 Files and Module Information
Filename
Filetype
Size
Date
Compatibility
Developer
Other Contributors
0.8.5
HorselessCarriage.vmod
module
36.11 MB
2023-04-09
3.6.15+
Ben Kyo
Change Log
0.8.3
Adjacency of sales departments and mainlines is now detected automatically.
Added an option on setup that:
Prevents market windows being generated for dealerships that lack the minimum specs, and
Warns players who place market windows over niches for which their dealership lacks sufficient specs.

0.7.6
Added a card reference window showing all player demand cards in the game, which updates as cards are used.

0.7.2
Brand pieces left on Focus get moved to Historical Focus on clicking "print sales brochures".
Added research and planning department counts and total assembly capacity numbers to main board.
Right-clicking buyers now gives you the option to sell from any dealership currently placed in your factory, and moves the buyer off the board next to the corresponding dealership for easier one-step tracking.
Advance expectations button deletes all buyers that have been moved off the board in this way.
Spec indicators no longer try and maintain their facing relative to the "facing" of the factory tile they are moved to.
Improved reporting of brand piece movement on research tracks.

0.6.3
Improved mouseover function. Pieces that don't need a "1" on mouseover showing that there's 1 in the stack now don't, and the niche tiles display "Sparks: X Y Z" for the number of car/truck/sports sparks depicted.
Timecard marker now stops responding to research/demand/planning after it is flipped to the finish side.

Comments
The dawn of the automobile: a time when cars were invented, and no one quite knew yet what this new contraption would look like, and what features would be essential. Early cars sometimes used levers or pedals to steer and a wheel to accelerate. Brakes were not always seen as essential; but sometimes an outside spot to take along an onboard mechanic was.
1. Click Setup in the toolbar to open the setup window and select the players in the game, then click setup.
2. Click your brand icon in the tollbar to switch to your factory floor window then drag your starting research and planning departments on to your factory floor.
3. Switch back to the setup window to click to place initial buyers and complete setup.
Features:
The three admin phases, print sales brochures, advance expectations, and grow demand, can be resolved in one click by toolbar buttons.
Dealership information (specs, assembly capacity, market reach) is presented on the main board for easy reference.
Adjacency to dealerships is detected automatically (sales departments and mainlines)
Timecard marker movement is automated so you can't forget it.
Wealth accumulation can be updated automatically.
Drag and drop between windows can be avoided by use of right-click menus.
Most automation aside from setup is optional: select "background" components by holding shift.
Screen Shots
Players