Module:Illuminati
From Vassal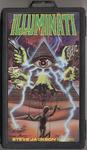 Files
VASSAL is not allowed to host this file or provide external links to the module in accordance to the wishes of the present Copyright Holder(s)
Module Information
| | |
| --- | --- |
| Maintainer | unknown |
| Contributors | gevrik, Sambris |
Comments
If you would like to see a module of this game made available please contact the Copyright Holder(s) to change their policy
The Illuminati Game by Steve Jackson (not the Trading Card Game)
They're all around us. Secret conspiracies are everywhere, and where can you find the only truth? Certainly not in the game of Illuminati. Fnord.
The phone company is controlled by creatures from outer space. The Congressional Wives have taken over the Pentagon. And the Boy Sprouts are cashing in their secret Swiss bank account to smash the IRS! Two to six players compete to grab powerful groups and increase their wealth and power. No ploy is too devious, no stratagem too low, as you scheme your way to victory.
Update 26th Sep. 2005 Progressing well with the graphics, will send out a first test version to some beta testers within the next two weeks.
Update 26th Oct. 2005 First test version of the module is available in the files section, this is a test release and will not be advertised on the vassal homepage.
Official Discussion Forum hosted on totalmadownage.com
Screen Shots
Players
gevrik
glocko
zass
Badger
AmbassadorALV
scamper
StickyRick
yams69
SteveV
ForeignInvestor
Laric
Razor
Cynical
Salamon
Marael
yangtze
daveted
Parvus
PaulRein
AdamKampia