Module:Infinity: A Skirmish Game
From Vassal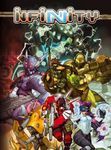 Files and Module Information
Comments
Version 1.3.7
New module contributor providing some updated. Updates all Haqq units to latest as of Late Summer 2017. Added additional range band auras accessible with CTRL-1 to CTRL-6. Other misc. fixes. Thanks to the original authors and other contributors for the work this builds on!
Version 1.3.6
Almost all unit tokens are updated. Old images removed. New units added. No idea what the heck JOAN.png was supposed to be, but somehow got rid of the error "CAN'T FIND HER YO!" Any comments and suggestions would be appreciated. Might move over to Tannhauser and work on that.

Version 1.3.1
First of all, credit goes to Vyo on the Infinity Forums for creating the lovely tokens. Still a work in progress, but for such lovely work I'm willing to wait. N3. Monotonous work. Should be seeing the rest of N3 in the upcoming weeks. Templates are finally pivoting like they should, TO Camo units now have Invisibility enabled, and the Blast and Smoke templates have been updated to the latest versions. Some other small stuff. Tokens are all up to date, though some of them aren't as pretty as they could be. Willing to accept help. Please.
Version 1.2
Added new tokens for almost all units, including new base sizes. Also added minor functions to templates, as well as new maps and some terrain. More work needs to be done on terrain.
Version 1.1
Work continues on Human Sphere. Nomads and Aleph complete. Mouse over functionality added. Unit selection simplified. Red team Bases added in 30mm, 40mm and 50mm sizes.

Version 1.0
started work on updating with Human Sphere units. Version 1.0 JSA complete.
Version 0.94
This is an Infinity The Game module for Vassal with raytraced maps and a wizard to create them with a few clicks.
For 2-4 players. All the rules and units are included. Please sign up as player if you download it. Thank You. Good Luck and Have Fun!<
W. Szabó Péter - Mahonlap
Please help us to make it even better!
Would you like to help? PayPal securely processes donations for money@ctdd.ro. You can complete your payment with just a few clicks. If You donate a small amount to the Vassal module it's a huge help. Remember this is a free project and we will get no profit from it.

Version 0.4 Needs to be thoroughly tested, but is mostly functional.
Screen Shots
Players
DonnyB
LordJesse
LostTemplar
fleshcross
bigdeath
DreamSlayer
zim
Ashen
redspade
KingJareth
pixelante
AoM
Nachtpfiffel
Deus
Ruther
lordAtticus
Reece
Foxone
Harlekin
Alexandros
Kyre
ajtheronin
varagon
Anakin83136
KyloWinter
Xypcha
Ragnarokilo
Cowleyc
Azrael909