Module:Interceptor Ace: Daylight Air Defense Over Germany, 1943-44
From Vassal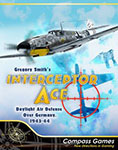 Files
Module Information
| | |
| --- | --- |
| Maintainer | Joel Toppen |
| Contributors | Joel Toppen |
Comments
(c) 2019 by Compass Games

Module Instructions:
1. Hold shift key down and right-click on the Interceptor aircraft mat to select/change aircraft type.
2. The toolbar buttons to increase sorties and kills produces an effect on the sortie and kill markers located in the Markers tab of the pieces tray. IMPORTANT: There are separate buttons to tally Bomber Kills and total Kills. Increasing the Bomber Kills also increased the total Kills.
3. Clicking on the draw 1st combat card button on toolbar will discard all previously drawn combat cards + draw 1 new combat card. The draw defensive fire card only draws a single card. To reshuffle, right-click on discard pile.
4. The mission log has not been included in the module. Use the notepad to log special notes, etc.
5. Nearly all of the game's charts have been included.

Enjoy!
-Joel
Screen Shots
Players