Module:Into the Woods: The Battle of Shiloh
From Vassal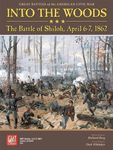 Files
Module Information
| | |
| --- | --- |
| Maintainer | Stiglr |
| Contributors | |
Comments
The first design by Dick Whitaker, this game represents the fulfillment of a personal pledge to series originator Richard Berg to revisit and update 1979's "Bloody April" game, published by SPI.
The game contains 10 scenarios, allowing players to explore the battle from multiple viewpoints: the classic historical attack by Johnston's army on the exposed Union bulwark along the Tennessee River; the extension into the Second Day; spotlights on the Hornet's Nest, and a few other dramatic hot spots during the April 6 fighting; increased Confederate flexibility in the attack plan; and more.
Two of the scenarios unfold on smaller, 11 x 17" mini-maps. These are ideal for introduction to the game or the series, and allow players to get used to some of the altered series mechanics unique to this battle (these include LoS, and the effects of the woods and farm fence boundaries).
Update log:
09/01/22: v1.04 - A Random Event AM has been added (inside the Union AMs display).
03/16/22: v1.02 - One marker still not displaying properly (Refuse Left/Right).
03/15/22: v1.01 - Fixed issues with "mislabeled" markers, all appearing as Low Ammo Markers. If the problem appears to persist in any scenario, try a Reset Counters operation (Tools > Refresh Counters).
Screen Shots
Players