Module:Invasion: Norway
From Vassal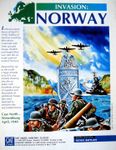 Files
Module Information
| | |
| --- | --- |
| Maintainer | Mark Oakley |
| Contributors | Mark Oakley |
Comments
Change Log
Version 1.3 - Created with Vassal 3.6.7
Fixed discrepancy between TEC (was 3, now 4) and Manual (was/is 4) for motorized infantry movement costs in Nordland and Troms zones after thaw. Fixed switched airborne and naval infantry symbols in unit ID chart. Verified compatibility with Vassal 3.6.7.
Only file updated is Invasion_Norway_Version_1.3.vmod
Version 1.2 - Created with Vassal 3.6.2
Updated module version to 1.2. Added button to delete all temporary markers at the end of a turn. Added Stay/Withdrawal window and counters that can be masked to allow for secret decisions.
Updated ReadMe to V1.2.
Links
Official GMT Games page: https://www.gmtgames.com/p-253-invasion-norway.aspx
Boardgamegeek page: https://boardgamegeek.com/boardgame/5333/invasion-norway
Permission to upload module was obtained from Anthony Curtis of GMT games by email on 11/18/2021.
Screen Shots
Players