Module:Invasion: Norway
From Vassal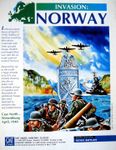 Files
Module Information
| | |
| --- | --- |
| Maintainer | Mark Oakley |
| Contributors | Mark Oakley |
Comments
Change Log
Version 1.2 - Created with Vassal 3.6.2
Updated module version to 1.2. Added button to delete all temporary markers at the end of a turn. Added Stay/Withdrawal window and counters that can be masked to allow for secret decisions.
Updated ReadMe to V1.2.
Links
Official GMT Games page: https://www.gmtgames.com/p-253-invasion-norway.aspx
Boardgamegeek page: https://boardgamegeek.com/boardgame/5333/invasion-norway
Permission to upload module was obtained from Anthony Curtis of GMT games by email on 11/18/2021.
Screen Shots
Players