Module:Invasion of Malta: 1942
From Vassal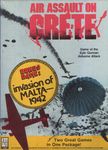 Files
Filename
Filetype
Size
Date
Compatibility
1.0
Malta.vmod
Module
1.72 MB
unknown
3.0.13+
MaltaNotes.txt
Notes
5 KB
unknown
unknown
Module Information
| | |
| --- | --- |
| Maintainer | unknown |
| Contributors | krazykiter, GJK |
Comments
This is a VASSAL module for the Invasion of Malta bonus game originally boxed with the Air Assault on Crete wargame from Avalon Hill. A separate game in its own right, Invasion of Malta used counters and rules from the Air Assault on Crete game.
Unlike the boxed version, it is NOT necessary to have the Crete VASSAL module to play. This module is completely standalone, not an upgrade or extension of the Air Assault on Crete VASSAL module.
(Please see the wiki page for revision and update history.)
Special thanks to Gary Krockover who created the Malta mapboard used in this module. Without his help, this module would not exist.
2007-11-26
---
Initial release.
Screen Shots
Players