Module:Knights of the Air
From Vassal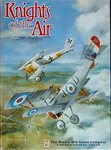 Files and Module Information
Comments
This is Avalon Hill's Knights of the Air. A deadly game of Air Combat during WW-I. Deemed the most accurate simulation board game of WW1 air combat by board game geek. The game features innovative concepts in movement order, spotting, and shooting that bogs other games down. The maneuvers can be somewhat complex but once understood the game moves quickly and gives the player the feel of flying and air combat.
Download Knights of the Air V2.0. Uses vassal version 3.17.
May 2022: Module Updated to include new features, new plane art, and custom counters for variant rules, like anti-air. Version 3.5 uses VASSAL 3.6.6.
July 2022: Version 3.6 of KoTA VASSAL -- moves airplane data cards to counter area with player windows instead of selecting on module startup. Added plane damage counter. Added a method of moving planes that increases movement counter. Other minor fixes.
Screen Shots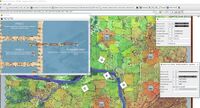 Players
Scott Campbell
Razor
Ed Becker