Module:La Bataille de Corunna-Espagnol
From Vassal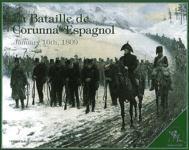 Files and Module Information
Comments
3.0 Version notes
Added scenarios option and standarized the module to match the ones created originally by Kevin Graves, reduced size of the module.
2.0 Version notes
New version 2.0 with improved counters (thanks to Miguel Guerrero). Some minor bugs are still there awaiting to be fixed but the module is fully functional "as is". Available at this link here

1.0/1.5 Version notes
Even if this file looks the same this is a revised version of the original mod. Bugs fixed (concerning dice) and new features such as AAWs and some useful markers for Regulations XXX. The best is the brand new map with an improved scanning thanks to Miguel Guerrero. The overall size of the file has dropped to 28 MB. We are still working to improve the module.
Screen Shots
Players
Miguel Angel Sanchez
MiguelGM
RDW