Module:Last Blitzkrieg: Wacht am Rhein, The Battle of the Bulge
From Vassal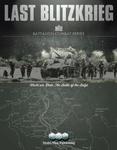 Files
Module Information
| | |
| --- | --- |
| Maintainer | Jim Pyle |
| Contributors | Jim Pyle |
Comments
ver 5.17
1. Fixed status of three US HQ Reinforcement HQs
2. Added "Fire Event 1/2" markers
3. Formation Activation chits can now be cargo on HQ Cargo Mats

ver 5.16
1. Fixed Unhighlighting button to deactivate "Finished" highlighting
2. Fixed Order Markers being activated by right click and not always hidden from opponent.
NOTE: If using a log from a previous version will need to delete German Order Markers and replace with new ones.
3. Fixed some US 1 ID units showing purple instead of yellow highlighting
4. Updated TEC
version 5.14
Fixed HQ counter Text Labels not showing
Fixed "Finished" status counter outline not clearing when clearing highlighted counters.

version 5.13
Fixed Allied OOA

Version 5.12
Updated Unit Skills chart

Version 5.11
Deleted reference to HQ restrictions on 82nd and 101st Airborne HQ on the Allied OOA

Be sure to see the "HELP" button for list of module features. A pre-setup game or other saved game must be loaded for this help to appear.
Version 5.10
Added HQ Mats to hold markers such as Support Units, Fatigue Marker, Arty Asset Markers, Prepared Defense Markers.
Also working on standardizing all BCS modules to have same unit menus, tool bar buttons, etc.
You can use this module with earlier versions but the HQ Mats will not work as explained in the "HELP" button unless you do a Tools/Refresh/Run to update all the units currently in play.
Version 5.00
1. Updated to ver 2.0 of BCS Rules
2. Added counters and scenario setups from expansion published in BCS Panzers Last Stand
3. Reports step loss/gain
Screen Shots
Players