Module:Last Night on Earth: The Zombie Game
From Vassal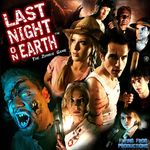 Files
Filename
Filetype
Size
Date
Compatibility
3.1
LNOE_V3.1.vmod
module
92.56 MB
2018-07-19
3.2.17
3.0
LNOE_V3.0.vmod
module
90.32 MB
2018-07-16
3.2.17
Module Information
| | |
| --- | --- |
| Maintainer | Popestar |
| Contributors | Popestar |
Comments
Version 3.1 2018-07-19: Made selection of Boards, Heroes, and Scenarios random.
Version 3.0 2018-07-16: Version 3.0 of Last Night on Earth (previous 2 versions were never released for public consumption). Contains all cards, tokens, boards, and scenarios in the original boxed board game, as well as the tokens/scenarios/boards from the unofficial Undead Inferno expansion.
Note that the artwork on the cards has been changed so as to not infringe upon copyrighted material where permission could not be obtained.
Screen Shots
Players