Module:Le Vol de l'Aigle (Game Aid Only)
From Vassal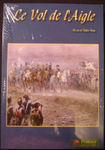 Files
Filename
Filetype
Size
Date
Compatibility
1.1
Prusian_1_1.vmod
Module
2.85 MB
unknown
unknown
Module Information
| | |
| --- | --- |
| Maintainer | Alberto |
| Contributors | Alberto |
Comments
This is not a module. It is a help for both the master and players of Le Vol de l'Aigle series. To use the module, it is necesary fto own the game.
If you have some question or comment you can write to: alberto@clavesa.com
Version 1.0
The first I publish here.
Version 1.1
Include Prusian inf at 20 size.
Screen Shots
Players