Module:Legendary: A Marvel Deck Building Game
From Vassal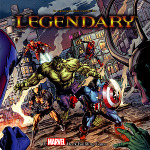 Files and Module Information
Comments
Fan 1.0 A Fan-made version of the Legendary Marvel Heroes deck building game. It changes the heroes for teams, a lot of new Bystanders and new Schemes, all based on the original game and expansions. It's not meant to get any reward, monetary or fame, for this work. It's just a free fan-version exclusive for Vassal. There is not any automation at all but extensively use of hotkeys and auto-shuffle. So you may play it as you play on a table. (Better read the game rules included in it).
Version 5.0 - with or without extensions - generates errors from missing files. The game can be set up and played by avoiding the related files, but this needs fixing. Until this is fixed, Version 3.0 is recommended.
Other comments on v5: !! TO PLAY WITH ALL EXTENSIONS YOU HAVE TO UP THE MODULE JVM INITIAL HEAP MEMORY TO 512Mb AND THE JVM MAXIMUM HEAP MEMORY TO 1024Mb !!
And it's still not working, even if increase more. And module not working without expansions - missing files. (Note: If the Villains expansion is deactivated, the module and other extensions work fine.)
ToDo list -
Add Villains and GotG rules
Version 5.x - Added Added automation for Master Mind and Villains Strength - Work with all 4.0.x Extensions
Version 4.1 - Added "put under hero draw" function - correction of some bugs - Work with all 4.0.x Extensions
Version 4.0.4 - Expansion Villains for 4.x modules - it is not the stand alone module of Legendary: Marvel Vilains, it is an expansion to play on base marvel game with an cross-over of Villains cards - Added Missing Scheme Twist "Crown Thor King of Asgard" - Added Missing Hero "Sabretooth"
Version 4.0.5 - Expansion Guardians Of The Galaxy for 4.x module - Added missing shards counter
Version 4.0.3 - Expansion Paint The Town Red for 4.x modules
Version 4.0.2 - Expansion Fantastic Four for 4.x modules
Version 4.0.1 - Expansion Dark City for 4.x modules
Version 4.0 - Split the module into base + Extensions - Added some counter - Added counters to manually indicate the amount of stars / claws played by current player - Added 1rs player random choice button - correction of some bugs

Still to do:
Do up some instructions on how to use this module (a lot of automated stuff)
Put in an automated "Play" deck for each player that automatically calculates Strength and Buying based on order of cards played
Put in an auto-start feature to keep players from forgetting to draw villain card
Version 3.0 - Added Spiderman expansion while reducing file size by 50%!
Version 2.71 - Added missing "Save Humanity" scheme along with all missing randomizer cards.
Version 2.7 - Added all expansion cards to date.
Version 2.6 - Added majority of expansion cards, implemented face down bystander deck w/ new bystanders, disabled auto-shuffle on Villain and Hero Decks to work with cards that affect the top cards of those decks. Hero and Villain decks must now be manually shuffled from the start.
Version 2.51 - Fixed Master Strike, Scheme and Hero cards so they get drawn to Villain Card Holder window
Version 2.5 - Added numerous automated features, including draw card buttons
Version 2.0 - Added numerous game tracking info, including a Victory point Tracker
Version 1 - Playable basic version
Screen Shots
Players