Module:Liberty Roads
From Vassal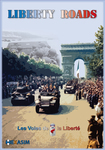 Files and Module Information
Comments
Game Designers: Nicolas Rident, Yves le Quellec
Version 1.4.3 I have fixed all the pre defined scenarios and all should be working correctly. I found a couple of minor problems with code and fixed this as well. If you find anything out of whack unit placement wise please let me know.
Version 1.4.2 It was pointed out to me that I forgot to setup the Niederland Area units for the D-Day/Campaign scenario and I have corrected this. Also I have now fixed the Cobra scenario. I only have Market Garden to update now.
Version 1.4.1 I have fixed the pre defined setup file for D-Day/Campaign scenario, where if you started a game as Allies and passed the file over to opponent it would not ask him to be German and thus deny him the ability to pull Support Markers etc. I will fix Market Garden and Cobra later.
version 1.4.0 adds combat markers to help PBEM.
Screen Shots
Players
Nobody
xrubio
fred468
jeb123
Rick Galli