Module:Lock 'n Load: A Day of Heroes
From Vassal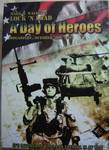 Files
| Filename | Filetype | Size | Date | Compatibility |
| --- | --- | --- | --- | --- |
Module removed in accordance to the wishes of Lock 'n Load Publishing
Module Information
| | |
| --- | --- |
| Maintainer | starman |
| Contributors | starmanSalar |
Comments
Kindly provided by LnL Publishing.
Version 0.96 compatible with vassal v3.1.4
It's October 3rd, 1993 and a combined team of Rangers and Delta Force soldiers drop into the throat of Somalia's capital, Mogadishu. The Americans mission was to capture two Aidid lieutenants and get out. Unfortunately, that wasn't the way it played out. Twenty-four hours, seventeen dead, and seventy wounded later the battle was over.
Heroes is the simulation of that battle. The return of the famed Lock 'n Load tactical game system to the modern era, A Day of Heroes includes a 17" x 22" map portraying the market section of Mogadishu where the American soldiers fought the Somali militia, counters that include rangers, Delta Force, Navy SEALs, Pakistani and 10th Mountain soldiers, Somali militia, SAWs, M-60s, M203s, RPDs, Mobs, road blocks, Somali Technicals, American helicopters, HMMVs, M1A1 Abrams (for a hypothetical scenario), a complete Lock 'n Load rule book, players aid cards, ten scenarios, and dice.
Physical game available here.
All details from the LnL Day of heroes web page.
1 may 2009: There is currently an issue with this mod which causes a failure of vassal v3.0.17. Resolving this issue is being looked at, but until then be aware that this version is unstable. More details are available on the vassal forum.
1 May 2009: v0.96 uploaded which is compatible with vassal v3.1.4
John 16th February 2011
Added the latest AMp = the missing trucks and Updated to .97 V3.1.15 Compatible.
Jerry
Screen Shots
Players
Salar
BugDany
hemepositive
Clandaith
nitro50010
KaelRandir
ganotisim