Module:Lock 'n Load Tactical: Day of Heroes
From Vassal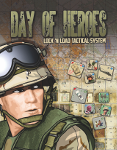 Files
Module Information
| | |
| --- | --- |
| Maintainer | Mike Seely |
| Contributors | starmanSalar |
Comments
Day of Heroes lets gamers rope down from a Black Hawk with a Chalk of Rangers or step off a Little Bird with Delta Force operators onto the mean streets of Mogadishu, filled with the smell of noxious smoke rising from burning roadblocks, a signal calling Somali militiamen to arms. Play nine scenarios, including the campaign-length scenario, "Day of Heroes". The Battle of Mogadishu is on, and you can be a part of it.
Version 2.4 Fixed: When pressing the Delete Admin Button, all roadblock, Acquiring/Acquired and Upper Level markers disappear. Fixed: There was no To-Hit option in the right-click menu of the Somali RR Technical. You have to right-click shake the vehicle to see the to-hit table.
Version 2.3
New Module!! Fixed all known errors and added the corrected counters from the v9.0 errata document for LnLT
Version 2.2
V2.2 MODULE - New features include 3D dice with die rolling sounds, plus counter movement trails, making it easy to track unit movement each turn. All reported errors have been corrected.
Version 2.1
V2.1 MODULE - All new hi-res digital map and counters with rounded corners. Official module, made by permission from Lock n Load Publishing.
Thank you to starman and Salar, upon whose previous work this module is built. There are many differences, but your work laid the foundation.
Screen Shots
Players