Module:Lock 'n Load Tactical: Heroes in Defiance
From Vassal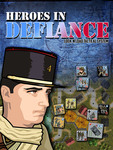 Files
Module Information
| | |
| --- | --- |
| Maintainer | Trent Garner |
| Contributors | |
Comments
Heroes in Defiance depicts the full range of battle for France and the Low Countries, from the first Fallschirmjager airborne assaults in Holland to the closing of the pocket of the BEF and remnants of the French Army at the Channel ports. The Phony War is over, and the blitzkrieg's new form of warfare is being unleashed. Are you ready?
Version 2.6
Added missing Fired Slayer Skill counter and Belgian Mle 1930 MG counter.
Version 2.5
Added missing Crater +2 marker; fixed prototype problem for Belgian T13 B3 and Dutch 47mm Gun
Version 2.4
Corrected the reduced counter for MMC French 2-3-4-6; fixed the reduced counters for MMC German 1-6-4-5 ODD and EVEN, which were reversed
Version 2.3
Fixes for all known issues and corrected counters from the v9.0 errata document
Version 2.2
V2.2 MODULE - New features include 3D dice with die rolling sounds, plus counter movement trails, making it easy to track unit movement each turn. All reported errors have been corrected.
Version 2.1
V2.1 MODULE - All new hi-res digital map and counters with rounded corners. Official module, made by permission from Lock n Load Publishing.
Screen Shots
Players