Module:Lock 'n Load Tactical: Heroes of North Africa
From Vassal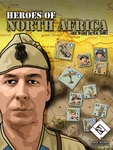 Files and Module Information
Change Log
Version 2.3
Fixes for all known issues and corrected counters from the v9.0 errata document
Version 2.2
New features include 3D dice with die rolling sounds, plus counter movement trails, making it easy to track unit movement each turn. All reported errors have been corrected.
Version 2.1
All new hi-res digital map and counters with rounded corners. Official module, made by permission from Lock n Load Publishing.
Desert Raiders extension 1.0
Unofficial fan-made extension to HoNA gives you counters, markers, skills and more to relive the exploits of the Long Range Desert Group, Special Air Service, and other special raiding forces that operated behind Axis lines in North Africa. Includes other cool and useful components like parked destroyable aircraft, random-draw raid objective markers like barracks or supply dumps, historical leaders, sappers, German motorcycle units, supply trucks, secret agent SMC, sentries, Italian AutoSaharan vehicles, a Free French turreted armored car, and even terrain tiles for colonial-style desert forts. [Note: This extension does not alter your original HoNA module in any way; just add the extension when you want to use it, and remove it easily from the module within your VASSAL menu if you want to return to the original HoNA.]
Comments
Game Description
Sand, Dust, and Bullets…… Welcome to North Africa.
The Lock 'n Load Tactical Series hits harsh and unforgiving desert terrain in Heroes of North Africa. As World War II unfolded, Mussolini and Italy's colonial expansion in Libya and East Africa were at stake, as well as the Axis's desire to control the Mediterranean Sea and the Suez Canal. In the beginning, only Britain and her Commonwealth Allies could stop them. From 1940 to 1943 a relentless, bloody push and pull of forces across the desert, from Egypt to Morocco, ensued.
Play dynamic scenarios that feature everything that makes the award-winning Lock 'n Load Tactical Series stand out—fluid, impulse-based turns; squad-level and individual heroics—plus lots of armor and unique rules to bring desert combat to life. Italians, including paratroopers from the rugged Folgore Division, and Rommel's vaunted Afrika Korps take on the resolute British Eighth Army. The Free French and Americans also get into the action. The battles start in 1940, with a few in East Africa, and Sidi Barrani, Egypt, and continue up to El Alamein and the Americans' first taste of combat during Operation Torch, in November of 1942. Heroes of North Africa has the most components of any game in the series to date, so find a pair of goggles; the dust and sand of the desert are going to fly!
This module contains the maps, units, markers, and select tables needed to play the game. Game scenarios are available in the LnL:Tactical Companion Book, which is available on the LnLP website.
What is the Companion Book?
The Companion Books are the same as the Module Rules and Scenario booklets that are available in our games, with the exception we included most of the charts and tables that come within that game. So why release the Companion book? The Companion Books were designed for those gamers who are playing virtually and did not want to purchase the entire game just for the scenarios and tables to play via Vassal or Tabletop Simulator. So to be clear the Companion Books are NOT complete games but contain everything a player will need to play via Vassal or Tabletop Simulator. Players who prefer to play virtually can do so without the need to own the board (boxed) edition of the game. The Companion Books can be used by players playing digitally via our Digital DLC editions via Steam for their Macs or Windows computers.
So if you own or purchase the board games you don't need to purchase the Companion Books. Some board game owners prefer them since they are spiral bound and will lay flat on the table and any typos or known errors found since the printing of the original edition of the board game has been updated. The Companion books can be used with any game printing or game rule edition.
External Links
Social Media:
Game Credits & License
Why We Do What We Do: We love playing games, as well as designing and developing them. We give praise and thanks to God for blessing us so we can follow our dreams and passions. We also thank you, our fans, friends, and family for making this possible for us.
This module is solely owned by Lock 'n Load Publishing, who kindly granted permission and advised on its construction. Please do not modify this in any way and repost it or its components. If you find errors, or have suggestions for improvements, please contact Mike Seely, our vassal module maintainer.
©2019 Lock 'n Load Publishing, LLC. © 2019 Lock 'n Load Publishing, LLC. All Rights Reserved. Lock 'n Load Publishing, LLC., and their Logos are all trademarks of Lock 'n Load Publishing, LLC. All other marks and trademarks are the property of their respective owners.
Executive Producer: David Heath
Associate Producer: Blackwell Hird
Lead Game Design & Development: Jeff Lewis
Module Design & Development: Ralph Ferrari
Manual Editor: Jeff Lewis
Counter Art: David Julien
Map Art: Marc von Martial
Graphic Design & Layout: Blackwell Hird
Box Art & Design: Blackwell Hird, David Julien
Administration: Ava Marie Heath
Customer Support: Jason Church
Logistics Manager: Darren White
Scenario Designers: Ralph Ferrari, Jeff Lewis
Screen Shots
Players