Module:Lock 'n Load Tactical: Heroes of the Nam
From Vassal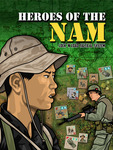 Files
Module Information
| | |
| --- | --- |
| Maintainer | Trent Garner |
| Contributors | Vance Strickland |
Comments
Version 2.6
Using the right-click menu to "button-up" the following vehicles placed an Abandonned AND a Buttoned marker.
M113 APC (ANZAC, ARVN and US Army version) LVPT5
Corrected a duplicate hot-key error.
Version 2.5
Added Ops Complete marker to VC Sniper; Bunker marker can now be rotated; Added Buttoned marker to all APCs; Corrected spelling of Mortor to Mortar for all WTs
Version 2.4
Corrected the M-18 counter to provide deployed and undeployed sides; added missing bunker counter; corrected officer name from Knight to Night
Version 2.3
New Module - Fixes for all known issues and corrected counters from the v9.0 errata document
Version 2.2
V2.2 MODULE - New features include 3D dice with die rolling sounds, plus counter movement trails, making it easy to track unit movement each turn. All reported errors have been corrected.
Version 2.1
V2.1 - Several hot-key fixes; Crew counter added to vehicle right-click menu; Rotate attribute added to NVA 75mm RR
Version 2.0
V2.0 - All new official hi-res digital maps and counters with rounded corners. Official module, made by permission of Lock n Load Publishing.
Thanks go to Vance Strickland for all his previous efforts on this module. His module is the basis for the new V2.0 module.
Screen Shots
Players
Vance Strickland
Trent Garner