Module:Lock 'n Load Tactical: Heroes of the Nam
From Vassal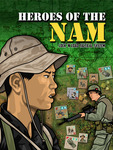 Files and Module Information
Filename
Filetype
Size
Date
Compatibility
Developer
Other Contributors
2.7
LnLP_Heroes_of_the_Nam_v2.7.vmod
Module
30.15 MB
2022-01-31
3.6.4
Mike Seely
Vance Strickland, Trent Garner
Change Log
Version 2.7 Corrected the following errors and omissions:
All mortar were spelled mortor in the Armies box.
The following vehicles don't have a Button up option in their right-click menu:M113 APC (ANZAC, ARVN and US Army version), Ontos AA,LVPT5
The North Arrow, Wire and Buttoned markers disappear when you press Delete Admin.
The To-Hit (control-H) right-click menu option is incorrectly labeled Shaken for the VC 75mm RR
There is no right-click menu Acquiring option for the VC 75mm RR
None of the helicopters have an Ops complete or Fired option in the right-click menu.
There is no right-click menu Clone option for the American crew, and Control-C won't work either.
There are no Mines in the marker box.
The healer skill was missing.
Comments
It's Time for Your Tour of Duty The award-winning Lock 'n Load Tactical Series. Heroes of the Nam. This squad-level game, with its fast-paced, intense impulse system, drops you right into the middle of furious jungle firefights and all-out, building-to-building assaults.

In Heroes of the Nam, forces from the Army of the Republic of Vietnam (ARVN), the United States Army and Marines, as well as their valiant Anzac allies from Australia and New Zealand, take on determined enemies from the North Vietnamese Army (NVA) and the unpredictable Viet Cong (VC). Powerfully armed Squads are at the vanguard of all actions, spurred on by daring Leaders and other unique individuals such as Snipers, Medics, Corpsmen, Chaplains, Advisors and, of course, Heroes, whose unique skills and sudden appearance can alter the tide of any battle. Helicopters, tanks and armored personnel carriers (APCs) also join the fight. Test your mettle in over 25 action-packed scenarios (the full game). Only the heroic will be victorious.

This module contains the maps, units, markers, and select tables needed to play the game. Game scenarios are available in the LnL:Tactical Companion Book, which is available on the LnLP website.
What is a Companion Book? The Companion Books are the same as the Module Rules and Scenario booklets that are available in our games, with the exception we included most of the charts and tables that come within that game. So why release the Companion book? The Companion Books were designed for those gamers who are playing virtually and did not want to purchase the entire game just for the scenarios and tables to play via Vassal or Tabletop Simulator. The Companion Books are NOT complete games but do contain everything a player will need to play via Vassal or Tabletop Simulator. Players who prefer to play virtually can do so without the need to own the board (boxed) edition of the game. The Companion Books also can be used by players playing digitally via our Digital DLC editions via Steam for their Macs or Windows computers.
So if you own or purchase the board games you don't need to purchase the Companion Books. Some board game owners prefer them since they are spiral bound and will lay flat on the table and any typos or known errors found since the printing of the original edition of the board game has been updated. The Companion books can be used with any game printing or game rule edition.

External Links
Social Media:
Game Credits & License
Why We Do What We Do: We love playing games, as well as designing and developing them. We give praise and thanks to God for blessing us so we can follow our dreams and passions. We also thank you, our fans, friends, and family for making this possible for us.
This module is solely owned by Lock 'n Load Publishing, who kindly granted permission and advised on its construction. Please do not modify this in any way and repost it or its components. If you find errors, or have suggestions for improvements, please contact Mike Seely, our vassal module maintainer.
©2019 Lock 'n Load Publishing, LLC. © 2019 Lock 'n Load Publishing, LLC. All Rights Reserved. Lock 'n Load Publishing, LLC., and their Logos are all trademarks of Lock 'n Load Publishing, LLC. All other marks and trademarks are the property of their respective owners.
Executive Producer: David Heath
Associate Producer: Jeff Lewis
Original Game Design: Mark Walker
Game Developers: Jeff Lewis, Mark walker
Counters and Box Art: David Julien,
Map Art: Marc von Martial
Scenario designers: Ralph Ferrari, Mark Walker
Graphic Design and Layout: Blackwell Hird, Christia Murray
Administration: Ava Marie Heath
Customer Support: Jason Church
Logistic Manager: Darren White
Vassal module maintenance: Mike Seely

Special thanks go to Vance Strickland and Trent Garner for their work on developing this module.
Screen Shots
Players
If you are looking for opponents on either Vassal or Tabletop Simulator please visit our Discord server.
Vance Strickland
Trent Garner