Module:Lock 'n Load Tactical: Heroes of the Pacific
From Vassal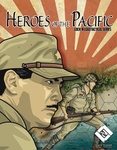 Files and Module Information
Change Log
Version 2.4
Added Slayer Fired marker.
Japanese Snipers have the Clone ability.
Corrected the spelling of the American hero Schulte. Sorry Jeff!
Extensions
V2.2 - Hell Frozen Over Map Extension
Comments
Heroes of the Pacific brings the award-winning Lock 'n Load Tactical game system to the Pacific theater with a vengeance. Heroes of the Pacific details America's brawl with Japan during World War 2 and includes twelve frantic firefights from America's audacious island-hopping campaign. You will lead desperate Marines struggling ashore on Tarawa, face a counterattack of HA GO tanks at the Peleliu airfield, fight for Kitano Point on Iwo Jima, and more.
It isn't, however, all about the Marines; Heroes of the Pacific comes chock full of the U.S. Army's finest, as well as the Imperial Japanese Army, all drawn with the painstaking detail our fans have come to expect. With 12 exciting scenarios in the full game to test your combat skills. It's squad-level combat at its most exciting; Lock 'n Load Tactical.
This module contains the maps, units, markers, and select tables needed to play the game. Game scenarios are available in the LnL:Tactical Companion Book, which is available on the LnL website.
What is the Companion Book? The Companion Books are the same as the Module Rules and Scenario booklets that are available in our games, with the exception we included most of the charts and tables that come within that game. So why release the Companion book? The Companion Books were designed for those gamers who are playing virtually and did not want to purchase the entire game just for the scenarios and tables to play via Vassal or Tabletop Simulator. The Companion Books are NOT complete games but do contain everything a player will need to play via Vassal or Tabletop Simulator. Players who prefer to play virtually can do so without the need to own the board (boxed) edition of the game. The Companion Books also can be used by players playing digitally via our Digital DLC editions via Steam for their Macs or Windows computers.
So if you own or purchase the board games you don't need to purchase the Companion Books. Some board game owners prefer them since they are spiral bound and will lay flat on the table and any typos or known errors found since the printing of the original edition of the board game has been updated. The Companion books can be used with any game printing or game rule edition.
External Links
Social Media:

Game Credits & License
Why We Do What We Do: We love playing games, as well as designing and developing them. We give praise and thanks to God for blessing us so we can follow our dreams and passions. We also thank you, our fans, friends, and family for making this possible for us.
This module is solely owned by Lock 'n Load Publishing, who kindly granted permission and advised on its construction. Please do not modify this in any way and repost it or its components. If you find errors, or have suggestions for improvements, please contact Mike Seely, our vassal module maintainer.
©2019 Lock 'n Load Publishing, LLC. © 2019 Lock 'n Load Publishing, LLC. All Rights Reserved. Lock 'n Load Publishing, LLC., and their Logos are all trademarks of Lock 'n Load Publishing, LLC. All other marks and trademarks are the property of their respective owners.
Executive Producer: David Heath
Associate Producer: Jeff Lewis
Original Game Design: Mark Walker
Game Developers: Jeff Lewis
Counters and Box Art: David Julien,
Map Art: Marc von Martial
Scenario designers: Ralph Ferrari, Mark Walker
Graphic Design and Layout: Blackwell Hird, Christia Murray
Administration: Ava Marie Heath
Customer Support: Jason Church
Logistic Manager: Darren White
Vassal module: Mike Seely

Special thanks go to Vance Strickland and Trent Garner for their work on developing this module.
Screen Shots
Players
Vance Strickland
Trent Garner