Module:Lock 'n Load Tactical: Heroes in Defiance
From Vassal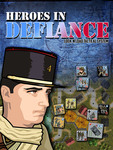 Files and Module Information
Filename
Filetype
Size
Date
Compatibility
Developer
Other Contributors
2.6
LnLP_Heroes_in_Defiance_v2.6.vmod
Module
40.19 MB
2020-11-21
3.4.9
Mike Seely
Trent Garner
Change Log
Version 2.6
Added missing Fired Slayer Skill counter and Belgian Mle 1930 MG counter.
Version 2.5
Added missing Crater +2 marker; fixed prototype problem for Belgian T13 B3 and Dutch 47mm Gun
Version 2.4
Corrected the reduced counter for MMC French 2-3-4-6; fixed the reduced counters for MMC German 1-6-4-5 ODD and EVEN, which were reversed
Version 2.3
Fixes for all known issues and corrected counters from the v9.0 errata document
Version 2.2
New features include 3D dice with die rolling sounds, plus counter movement trails, making it easy to track unit movement each turn. All reported errors have been corrected.
Version 2.1
All new hi-res digital map and counters with rounded corners. Official module, made by permission from Lock n Load Publishing.
Comments
Game Description
In May of 1940, the Germans launched Fall Gelb (Case Yellow). Scores of German divisions flooded through the Ardennes and across the borders of France, Belgium, and Holland. The blitzkrieg tactics first used in Poland, in 1939, had been put into action again—and perfected. For over six weeks the Allies, including the British Expeditionary Force (BEF), put up a staunch defense. Despite their defiance, they could not withstand the fierce onslaught of the German Wehrmacht, the fearless Fallschirmjägers, and the notorious SS.
Heroes in Defiance depicts the full range of the battles for France and the Low Countries, from the first Fallschirmjäger airborne assaults in Holland to the closing of the pocket of the BEF and the remnants of the French Army at the Channel ports. Heroes in Defiance (full game) also adds five new scenarios (two previously unpublished) and eliminates the need for overlays with additional maps. It's the blitzkrieg of 1940 at its best!
This module contains the maps, units, markers, and select tables needed to play the game. Game scenarios are available in the LnL:Tactical Companion Book, which is available on the LnLP website.
What is a Companion Book? The Companion Books are the same as the Module Rules and Scenario booklets that are available in our games, with the exception we included most of the charts and tables that come within that game. So why release the Companion book? The Companion Books were designed for those gamers who are playing virtually and did not want to purchase the entire game just for the scenarios and tables to play via Vassal or Tabletop Simulator. The Companion Books are NOT complete games but do contain everything a player will need to play via Vassal or Tabletop Simulator. Players who prefer to play virtually can do so without the need to own the board (boxed) edition of the game. The Companion Books also can be used by players playing digitally via our Digital DLC editions via Steam for their Macs or Windows computers.
So if you own or purchase the board games you don't need to purchase the Companion Books. Some board game owners prefer them since they are spiral bound and will lay flat on the table and any typos or known errors found since the printing of the original edition of the board game has been updated. The Companion books can be used with any game printing or game rule edition.
External Links
Social Media:
Game Credits & License
Why We Do What We Do: We love playing games, as well as designing and developing them. We give praise and thanks to God for blessing us so we can follow our dreams and passions. We also thank you, our fans, friends, and family for making this possible for us.
This module is solely owned by Lock 'n Load Publishing, who kindly granted permission and advised on its construction. Please do not modify this in any way and repost it or its components. If you find errors, or have suggestions for improvements, please contact Mike Seely, our vassal module maintainer.
©2019 Lock 'n Load Publishing, LLC. © 2019 Lock 'n Load Publishing, LLC. All Rights Reserved. Lock 'n Load Publishing, LLC., and their Logos are all trademarks of Lock 'n Load Publishing, LLC. All other marks and trademarks are the property of their respective owners.
Executive Producer: David Heath
Associate Producer: Blackwell Hird
Lead Game Design & Development: Jeff Lewis
Module Design: Dale Holmstrom, Olivier Revenu
Manual Editor: Jeff Lewis
Counter Art: Pete Abrams, Wan Chiu, Nicolas Eskubi, Blackwell Hird, David Julien, Marc von *Martial
Map Art: Marc von Martial, Olivier Revenu
Graphic Design & Layout: Blackwell Hird, Steve Pultorak, Steven Dennis
Box Art & Design: Blackwell Hird, David Julien
Administration: Ava Marie Heath
Customer Support: Jason Church
Logistic Manager: Darren White
Original Design: Mark Walker
Screen Shots
Players