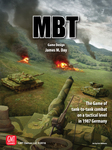 Files
Module Information
| | |
| --- | --- |
| Maintainer | Rob Doane |
| Contributors | |
Comments
The oversize map files contain all maps in the series blown up to 200% size. They are intended for those who prefer more room in the hexes to spread out their pieces. Add these files to your module just like any other extension, then choose the oversize maps when setting up your scenario (they will appear at the bottom of the menu).
1.1.5
Fixed error with hasty entrenchments marker
Added bevel to all game pieces to aid visibility when placed on the map
1.1.3

Minor edits to unit menus
Added missing commands to Soviet helicopters in right click menu

1.1.2

Individual unit right click menus now have options to place break, hesitation and suppression markers. Also have ability to clone units.
Added off map setup area for both players to aid in placing reinforcements.
Individual units that produce a report in the message window now show the unit's name and ID# instead of just the ID#.
LOS checks now produce a report in the message window.
Added more terrain for cutom maps and made most terrain backgrounds transparent.
Terrain counters can now be rotated.
Screen Shots
Players
Pierre Miranda
Gustav6
Ulv Miller
Philippe Jathan
Dave Beaver
BobbyDevo