Module:Mage Knight Board Game
From Vassal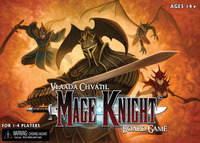 Files and Module Information
Comments
Version 3.0.4
Sparing Power now correctly adds cards to the stack in your hand, instead of behind/in front of cards you already hold.
Version 3.0.3
Monastery offer fully automated and drawn at same time as unit offer.
Chunky dice.
Gold/Black re-roll automated.
Tactic location added to Dummy board.
Default zoom for Main Map changed to 18.4%
Tovak's Cold Toughness re-fixed.
Version 3.0.0
A fully-functional version of the pre-expansion Mage Knight Board Game for one to four players.
Highly automated set-up, turn-end and round-end options that cover all official scenarios and variants.
Limited automation during play to minimise dragging-and-dropping, so you can focus on the game rather than the interface.
Designed primarily around play-by-email and solo play, given the length of the average Mage Knight game, but fully supports online play.


Version 1.8
A limited version of Mage Knight. Includes 3 heroes. Supports solo play only.
Screen Shots
Players
JackOfSparks
philmcd
Belshire
Venuil
Ociek