Module:Manassas
From Vassal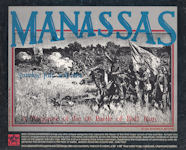 Files
Module Information
| | |
| --- | --- |
| Maintainer | KevOs4, Stephen Oliver |
| Contributors | KevOs4, iam2509 |
Comments
Manassas Version 2.0 has the following updates to Version 1.0:
1. Records Step losses on infantry and cavalry counters.
2. Records Gun, Crew, and Ammo losses on artillery counters.
3. Records HQ wounding on each Leader.
4. Counts up losses and Victory Points as they occur, indicating such on counters on top of map.
5. Units start MASKED from the opponent. So if Union chosen, the player cannot see Confederate losses or inflict losses on Confederate units. Only Solitaire and Solitaire2 can see both sides' units.
6. Graveyards for placing eliminated units.
7. All charts are easier to read.
Screen Shots
Players
KevOs4
bonzillou
davidk64