Module:Marvel Dice Masters: Avengers vs. X-Men
From Vassal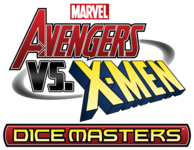 Files and Module Information
This module has been removed at the request of current copyright holders
Comments
If you would like to see this module being available, please contact the current copyright holders
Loading Info
So to Load Complete: Download the Zip file, Unzip in your Vassal Directory or other Folder. Open Vassal, Select Open Module, and Open the DiceMasters3.0.vmod, make sure to leave the sub-directory DiceMasters3.0_ext in the same directory as DiceMasters3.0.vmod
So to Load base Module / Extensions: Download the files. First Open the Base Module into the Vassal Module selector, then Right Click on the Base Module and select ADD EXTENSION, select the extension file. Repeat the right-click ADD EXTENSION till all extensions are added.
HELP!!! I GOT NO CARDS with Version 3.0 -> All the Cards have been moved into the extensions, one for each released set. Just exit the module and in the Vassal Module Selection, Right-click and ADD EXTENSION and select one of the DM Sets.
If that Still doesn't work, Launch the Base Module, go online, and ask for some help.

Updating Extensions, Just download the new version and replace the existing version in the "_ext" sub-directory.
If you wish to update this module, please contact me, the module maintainer, via email, so that efforts can be coordinated and work is not duplicated.
Update History:
Dice Masters: Thanos Imperative Month OP Kit added to the Organized Play Extension.
Dice Masters The Amazing Spider-Man - Full Set Released - ALL CARDS.
Dice Masters War of Light Update - Updated Release cards first Production Release - ALL CARDS.
Dice Masters 3 Player Module Extension added.
Dice Masters Organized Play Extension has Completed the Full-Art Cards RDW Cards, and Trinity War Month 5.
Dice Masters Organized Play Extension has Trinity War M4 OP updated, all 4 Chase Zombies added back in, First Round of Full-Art Cards in as well.
Dice Masters Organized Play Extension has D&D BFF M3 OP Kit now
Dice Masters Organized Play Extension has D&D BFF M2 OP Kit now
Dice Masters: Age of Ultron Extension now from Release Cards
3.0.1 Update to the Base Module, Snap to grid and Doubles now part of the base module.
Added Semi-Constructed / Hybrid format Generator, Includes AvX, UxM, YGO, BFF, Jul, and AoU
Added Dark Souls Set Extension, due to the number of character/cards, this deserved it's own set.
Organized Play Cards updated with better images for Trinity War Month 1 and 2.
v3.0 Move to SET Extensions, Single ZOOMABLE Play Mat, Some other stuff cleaned up.
v2.5.2 Reorganized the Game Pieces to be compatible with the module extensions for Sets going forward. Current as of 6/9/2015, First Extensions would be Age of Ultron and OP Kit.
Screen Shots
Players
wargfn / Ron Schachtner
simage
JohnFly / desbiensjm@gmail.com
Aurora Sing