Module:Merchant of Venus
From Vassal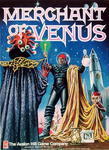 Files
Module Information
| | |
| --- | --- |
| Maintainer | Aaron Riggan |
| Contributors | Aaron Riggan, Michael Christopher, Jonathan Watts |
Comments
Special thanks to soft-bug of Vassalfactory.org for collaborating with me and helping fix some very critical issues. As of right now, the game is (as far as I know) 100% playable. I will be posting another tutorial for the updated version eventually, but most of the functionality should be the same. The only major artifact that I can't get rid of is an extra "peek" command upon clicking the exploration tokens or the IOU tokens. However, gameplay shouldn't be noticeably affected. -Cardshark1029, module designer.
This is the popular 1988 Avalon Hill game, Merchant of Venus designed by Richard Hamblen. All art used was designed by Michael Christopher, as part of a full redesign that can be found on BoardGameGeek.
This is still a work in progress. Any bugs or feature requests should be posted to BoardGameGeek
http://boardgamegeek.com/article/5757227#5757227
Version History
Version 1.1 (by Jonathan Watts)
Fixed a bug that prevented Ice Station from being bought (zone was called "Ice Station Port" instead of just "Ice Station")
Factory Goods will now go to the correct location when pulled out of the cup, instead of to whichever factory happened to have been bought most recently!
Version 1.0
Fixed a major bug that prevented all but the starting player from selecting and manipulating tokens
Fixed a major bug that prevented IOU tokens from going to player boards.
Decreased file size and improved functionality. (special thanks to soft-bug, founder of Vassalfactory.org for helping me with many of these fixes.
Version 0.9
Added a Trade Window - Each player drags what they want to trade to one side, then takes what their opponent offers.
Module now reports on several activities, including peeking at Exploration and IOU counters
Added functionality for the Autopilot and Mulligan Gear relics
Reworked Die-Rolling mechanics: now reports each die rolled and the total
Version 0.85
Screen Shots
No screens yet... but soon!
Players
Aaron Riggan
GornTC
brederic
davidk64