Module:Monsterpocalypse
From Vassal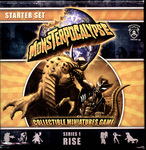 Files and Module Information
Comments
The Privateer Press game of giant monster battles.
Mod 2.65 contains Voltron set as well as all Big In Japan figures.
The excel document lets you see your chance of success at hitting a given defense with a given number of action dice, boost dice, and power dice. Just enter the numbers of dice you plan to roll and the target's defense in the appropriately labeled columns, and it will calculate both your chance of success and your chance of a fully successful lightning attack (which is to say two successes in a row rolling the same number of dice each time). Just in case you're interested in that kind of thing
Mod 3.4.1 contains the following:
Team Covenant maps added by Team Covenant.
Quantum forms added by Team Covenant.
Image issues with hazard tiles corrected by DragonsTearTavern.com (Haddie).
Screen Shots
Players
arizzle
Lycane
Ixtab
JAFisher44
arris138
Morder
pmiranda
paradox22
macdaddy94
Shoel
laserjudas
Namlok
Kahrma
Woford
jmoodie
wapcaplets
bendalf
drfaust176
ElWongo2
BNice
KevStormJ
dirtyneedlepolitics
DMarcus7