Module:Montmirail and Vauchamps 1814
From Vassal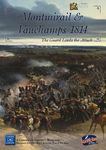 Files
Module Information
| | |
| --- | --- |
| Maintainer | Pierre Bulle |
| Contributors | Mark Benson, Crispy1critter |
Comments
Authorised module by permission from Frederic Bey (Canons en Carton).
Version 2 Beta
The Version 2 module available in the files section of this page is a working beta release intended to ease counter/stack handling and hidden actions. Some command shortcuts & hotkeys have been changed, mainly to avoid conflicts when operating on a stack. A summary of shortcuts & hotkeys can be found under the Help menu. The release includes the Crispy1critter's changes from v1.4 of other JdG modules and the following new features:
Official player aid added (permission from Frédéric Bey). Help includes links rules on the official JdG website.
Sound effects and chat log highlighting for roll die (F2), deploy AM and end turn.
Private hand is available to French and Coalition players, to facilitate concealed AM choices.
AMs in the draw cup are now fully masked until drawn and placed on the board.
Markers palette is at the head of the palette list so it will display first by default in response to the Pieces button [F3].
Orders/No Orders markers remain masked until revealed by the owner and there is only one pair needed in the markers palette.
Private Hands include a stock of Orders/No Orders markers.
Counters will locate on vertices and edges as well the hex itself. The intention is to facilitate using markers on formations as well as individual counters & stacks, whilst maintaining the convenience of snap-to-grid.
Rotation now aligns only to vertices and (on Montmirail map), the top edge.
Shock, Charge and Square commands operate on a one-per-stack basis.
Mouseover shows current hex number on battle map.
Movement trails are maintained during each Activation.
Infantry and Cavalry units will automatically go to the bottom when joining a stack.
End Turn cleans up board status and deploys preset AMs from the turn track to the active section of the AM board.
Deploying an AM cleans up movement trails and relevant markers from last activation
Line of sight tool added (toolbar drop menu offers Private and Shared options)
Compressed toolbar to allow for additional buttons within a small screen width. Wider zoom settings, also for small screens.
Specific to this module: A couple of Coalition Activation Markers were missing from the Montmirail scenario layouts.

Testing and feedback invited, whilst I consider rolling out the changes to other JdG modules. Contact marktb1961 or discuss on the Vassal Module Support forum.
Screen Shots
Players