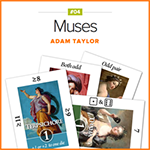 Files
Filename
Filetype
Size
Date
Compatibility
1.0
Muses.vmod
module
2.27 MB
2018-07-23
3.2
Module Information
| | |
| --- | --- |
| Maintainer | Shadowghost |
| Contributors | Shadowghost |
Comments
In Muses you are an aspiring artist seeking inspiration from the nine Muses of mythology. Each Muse that you encounter will gain you inspiration points and assistance in encountering her sisters. You may also call upon hints gleaned from the works of classical authors.
It is a very quick, solitaire dice and card game. It is comprised of nine cards and three tokens and requires two standard D6s. There is no setup required and you can play through a full game in under five minutes. There is a significant element of luck in the game but players must make the right tactical choices to capitalise on that luck.
Each of the nine cards represents one of the Muses. On the card is a point value and - in most cases - a dice manipulation power, to be gained by encountering that Muse. Around the edge of the cards are between one and four conditions that you must meet on the two dice in order to encounter that Muse. Each turn the player draws a new card, turns any unclaimed cards 90 degrees clockwise and rolls the two dice. Using any powers they have acquired, the player then tries to claim (encounter) one of the active cards by matching the condition currently showing at the top of the card. Cards which are not encountered before they run out of claim conditions are discarded.
Muses is a game made by Adam Taylor.
Screen Shots
Players