Module:Musket & Pike: Tactical Combat, 1550-1680
From Vassal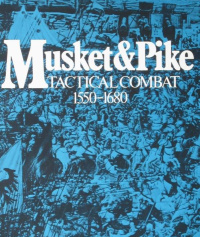 Files
Module Information
| | |
| --- | --- |
| Maintainer | Stephen Oliver |
| Contributors | iam2509 |
Comments
Features of Vassal version 2.0:
1. 63 Scenarios are available, just click when loading and play (18 original plus 45 additional).
2. The Scenario descriptions are under Vassal top buttons under Sce1 & Sce2.
3. All charts plus variant charts for Defensive fire, Leaders, and Unit Point Costs, etc. are in the vassal module.
4. Vassal automated for removing Disruption, Fire, etc.
5. Battle of Pinkie Cleugh was originally meant for PRESTAGS Spartan map - I have added a Map Overlay so that scenario is available in this module.
6. Includes Target Hexes & Black attack arrows to facilitate Online play.
Screen Shots
Players