Module:Napoléon 1815
From Vassal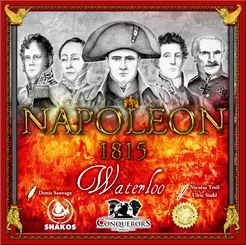 Files
Filename
Filetype
Size
Date
Compatibility
1.0
Napoleon1815_v1.vmod
module
28.12 MB
2022-017-01
3.5.0
Module Information
| | |
| --- | --- |
| Maintainer | Christian van Someren |
| Contributors | |
Comments
Designers: Denis Sauvage, Julien Busson
Art: Nicolas Treil
Description: Napoléon 1815 is the third instalment in The Conquerors, a series devoted to the great strategists of history. Following on from Napoléon 1806 and Napoléon 1807, Napoléon 1815 brings its own unique challenges to this well-tried and highly acclaimed campaign system.
For up to three players, assume the role of Napoleon, Wellington, or Blucher, making the key decisions that will determine the fate of Europe. As Napoleon, will you adopt your own version of his "strategy of the central position," driving a wedge between the enemy armies and then annihilating each of them in turn? Or perhaps you will choose a different course, or find that change is forced upon you?
Time is of the essence, for if the armies of Wellington and Blucher do join, the emperor's final throw of the dice is likely to end in defeat.
Notes: When you start a scenario, the rules of the Grognard are automatically in effect. If you want to play the Basic/Advanced game, just flip all the units face-up and delete all the Vedette units.
When choosing a scenario, make sure to choose the correct setup for a 2-player or 3-player game, since the content of the card decks is different in each case. In a 3-player game, you must choose between France, Britain and Prussia; In a 2-player game you must choose between France and the Coalition.
The module contains both the English and French cards.
Screen Shots
Players