Module:Napoleon's Triumph
From Vassal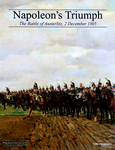 Files and Module Information
Comments
v0.95 - 2021-12-03 Commanders now function as "mats" that can carry 1-8 units with them in a corps as they move and rotate. Setup button sends all corps to default locations. Selection highlighter is purple. Trails are activated only after placement on main map. The "pick up" command has been removed. Marking commanders is now Alt+Q (units are still Ctrl+Q), independent commands are Ctrl+2 (corps commands are still Ctrl+1)
v0.88 - 2020-10-27
The 2-player version is now the default. Team version won't be maintained unless I get a request for it.
Commanders can be right-clicked to use their corps command.
Blocks can be right-clicked to use an independent command.
Command tokens can be clicked to take them off the board.
Attempting to use more independent commands or Allies corps commands than allowed generates a warning message.
Artillery can be right-clicked to place a marker indicating time of firing (current time) on top of the artillery.
Artillery markers can be right-clicked to set to current time.
New right-click command to "pick up" pieces - up to 8 blocks and 1 commander. This will send them to your hand, return them to horizontal, and straighten them up into a single corps. Useful for tidying up a messy corps, and rearranging units after a reveal. Attempting to send more than 8+1 at one time won't work.
Branched from Furyn's work, this is an almost entirely new version of the module (v0.81 - 2020-03-18)
High resolution map and graphics, designed to look like the physical components.
Blocks placed on approaches rotate to align with the approach.
Ctrl+A will also align a block with the nearest approach.
Losses taken are reflected by the army inventory display on the board.
Arrange your corps in hand and drag to the map - they will be placed "face down" by default.
Map reference numbers toggle provided for easier communication.
Screenshot button, with the option to conceal visible unit information.
Notes window.
Team play enabled, player names optionally displayed on the board. The "no teams" version of the module is provided for two-player-only games.
Morale markers can be changed to reflect cavalry/guard commitment, artillery markers to display time fired.
Reporting improved for all actions.
End turn button cleans up everything ready for the next player.
See the help file for more details.

Version .46 (11/13/2013)
Fixed a bug where "Mark Red" and "Mark Blue" commands would no longer work once the "Reset Commands" button had been pressed.

Version .45 (4/29/2013)
Fixed error in "Standard Setup" file
Fixed bug with movement trails. They should now work correctly.
Fixed bug where the layers of a block didn't rotate at the same rate under certain circumstances.
Added a moved indicator on the blocks.
"Reset Commands" button now resets the mark blue/red status of all blocks.
Version .44 (4/05/2013)
Removed buggy "hide blocks" button from the main toolbar. (You may still hide blocks via the right click menu or in each side's private window).
Added action buttons to mark spent commands. Just click on the command track.
There is now a "Reset Commands" action button on the main toolbar that will remove all spent commands.
Added action buttons below the morale track to mark guard morale penalties.
Added "No Artillery" marker.
Movement trails are enabled for all non-commander blocks.
Fixed a bug with the Standard Setup where you could only load in as the French player.
Included the addition of a "Clean Slate" Setup.
All locations on the map have appropriately named zones and grid locations. If you move a corps into a town it will now report it in the chat window and with the proper name. Numbered locales were named based off of Mr. Simmons numbered map on his website. Proper names were transcribed with help from the BoardGameGeek forum.
Morale track and time track received grids.
All block movement and commands should now report to the chat window.
Version .42 (3/15/2013)
Allied blocks now have the "mark blue" feature to match the French "mark red" feature. Use it to declare attacking/defending blocks.
Added a Setup scenario where all of the blocks start play on the board. No longer will players have to drag each block onto the board at the start of every game.
Version .41 (3/10/2013)
Allied blocks now rotate incrementally, just like the French blocks.
Approaches have been darkened for better visibility.

You can also get module version 0.4 (20-Feb-08) here
Screen Shots
Players
bennyb
morri896
plw
asdnart
Celticid
Noman
LordJesse
micf2302
abithel
sgtshellback
cornjob
yankeeap
gittes
billgoode
luca67
xrubio
fleanbilly
John Longstreet
charlescab
Roger Leroux
wmartin64
rob arrieta
Corsoterrestre
outlander000ITA
Mohit Goel
Myth1202 

trulpen (SWE)
RiverWanderer