Module:Napoleon At Bay: Defend the Gates of Paris
From Vassal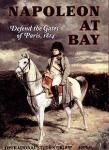 Files
Module Information
| | |
| --- | --- |
| Maintainer | JokerRulez |
| Contributors | JokerRulez and Jeff Wise |
Comments
2020-04-27 - Module version 1.0.3 has been posted. A volunteer has arrived to put together the various scenario setups. This version includes the Campaign. Thank you to Erik Krommenhoek for the work!
2014-01-19 - Module version 1.0.2 has been posted. The missing Defrance YG Cav counter and Tschernis Kos counter have been added. The Notes markers now can be deleted. The Hide/Unhide units button has been added to global play.
2013-02-27 - Module version 1.0.0 has been posted. All functionality necessary to play is available. Scenario(s) have not been set up.
2013-02-23 - All charts, turn tracking, AOD's, etc are complete. All artwork is finished. Many pieces have been created. A couple hundred more pieces to create and this will be done.
2013-02-20 - Module work is well underway with significant artwork finished. Module building about to commence.
2011-06-25 - Module version 0.0.1 has been posted. This has the very nice map image by Jeff Wise and will form the core of the module to be built.
Screen Shots
Players
JokerRulez
Edgar
Ulv Miller