Module:Neanderthal
From Vassal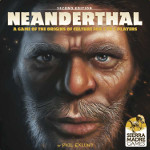 Files
Filename
Filetype
Size
Date
Compatibility
Developer
Other Contributors
2nd Edition
Neanderthal_2.2.vmod
Module
19.58 MB
2019-01-20
3.2.17
Stefano Tine'
Samuel Williams
1st Edition
Neanderthal_1.3.vmod
Module
4.53 MB
2016-05-23
3.2.16
Stefano Tine'
Comments
Neanderthal by Phil Eklund (SMG, 2015). Neanderthal 2nd Edition by Phil Eklund (SMG, 2018). Published with permission.
Release Notes:
version 1.0 released on 2015-11-27, for original Neanderthal edition
version 1.1 released on 2015-11-28, with some bug fixes
version 1.2 released on 2016-01-08, to fix a misprint on the placards
version 1.3 released on 2016-05-23, another bug fix
version 2.0 released on 2019-01-14, for Neanderthal 2nd edition
version 2.1 released on 2019-01-17, with right click short cuts to return meeples from hunt
version 2.2 released on 2019-01-20, with a fix for a rare bug with Global Warming
Please check the HELP/READ ME window in the module for detailed instructions.
Screen Shots
Players