Module:Netrunner
From Vassal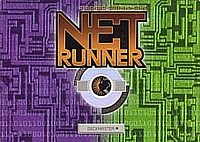 Files
Module Information
| | |
| --- | --- |
| Maintainer | AidenDouglass |
| Contributors | AidenDouglass |
Comments
It has been asked if there was any auto-generation of decks capability, and that is WELL beyond my capabilities. If anyone has an idea on how to make that work, that'd be great.
If you want to play a Sealed Deck game, I guess you'll have to use one of these other programs. Other ways to play Net Runner; Gccg or Magic Workstation.
There have been comments about the inconvenience of "having to build a deck by hand"... and I thought that was the beauty of a Card game. I've played physical card games, and it's always fun to look through the individual cards, spread 'em out on the table/floor and play around with matching up cards and building a strategy... which is how I use this module. Choose your cards by pulling them into your hand, make your Hand window big, and start poking around. Then when you have your ultimate killer deck, drag 'em over to the playing table into the Corp HQ or the Runners Deck, then right-click and Save. You can then load your deck quickly once you've met up with your buddy to play a few rounds.
All card images were found on www.netrunneronline.com, and you can also find some deck build suggestions and strategy tips. It's a very active game community for a game published in 1996! =)
It's been a couple years since I made this Module, but I've talked a friend into learning the game, so I've returned. I'm going to go ahead and compile some Decks from the listings suggested on NetRunner Online and try to upload them here as vsav files so you can download them for use in your own game without the trouble of assembling the deck yourself... if you find that sort of thing troubling...
ENJOY! =D
Screen Shots
Players
AidenDouglass
Frizzler
Preacher
Korhall
Morpheus
davidk64