Module:Neuroshima Hex!
From Vassal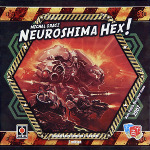 Files
Module Information
| | |
| --- | --- |
| Maintainer | Gallardus |
| Contributors | Lienrag99 |
Comments
VASSAL module of Neuroshima Hex! The module features all official armies published this far (2020), including Troglodytes.
Ignacy Trzewiczek, from Portal Games, allowed the use of this module. Thanks Ignacy!
Version 2.2
News armies: 2.x Troglodytes and Beasts; Thanks to Zynaps for the art
Missing 2.x refcards added
Version 2.1
Major bug resolved (Troglodytes tokens returning to Uranopolis)
Units heal/wound inverted (to be the same as HQ)
Units wound token going up to 9
Casualities difference from hand enhanced
Minor corrections (graphic, links...)
Version 2.0
Better helps

Module Quick start (how-to-use)
All 3.0 refcards in english (previous polish refcards in an extension, see below)
Tiles repartition for 2 or 4 armies (more concise than refcards)

Support for extensions (for easiest upload):

Fan armies
Polish Refcards

Misc

Minor bugs resolved (New York double-casualities, etc.)
Minor improvements (alphabetical order, etc.)
Version 1.54
5-6 players map added
All armies (but Troglodytes) both in 3.0 and 2.x graphics
Link to each army rules + reference cards for each 2.x army
Support for addition of fan armies
Many minor graphic/behavior bugs resolved
Many unused graphics removed; player aids jpged
Version 1.52
2.x graphics replaced by 3.0 graphics
All 2015→2020 factions added (Uranopolis to Troglodytes)
Overlay effects (poison, etc.) removed and replaced by tokens

Version 1.31
Included some minor changes:
Back of Doomsday Machine tiles are more up to date.
Now all units in the game are woundable to cover some effects and 2v2 games.
Units and HQs over Neojungle 'land' and Sharrash 'hole' now become semitransparent so that the tile underneath can be seen.

Solved bugs:
The Dancer's tiles now can be moved as The Dancer player, and not only as Moderator.
Screen Shots
Players
Gallardus
Maoz75
fsiefken