Module:Next War: Vietnam
From Vassal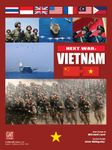 Files and Module Information
Filename
Filetype
Size
Date
Compatibility
Developer
Other Contributors
NWVietnam1_2
NWVietnam 1_2.vmod
Module
26.19 MB
2021-07-12
3.5.6
zhodani
zhodani
NWVietnam1_1
NWVietnam 1_1.vmod
Module
26.18 MB
2020-11-05
3.3.2
zhodani
zhodani
NWVietnam1_0
NWVietnam 1_0.vmod
Module
25.72 MB
2020-11-03
3.3.2
zhodani
zhodani
Comments
1.2 adds the ability to identify which unit is the lead attacker without having to read log files requested y a player.

1.1 update adds missing USMC ground units, and correct number of Vietnam Air Units.
Remember that if you pull out a unit to many of a type, simply select unit and then press "shft + ctrl + alt + X" and you will delete it.
Screen Shots
Players