Module:No Retreat! The North African Front
From Vassal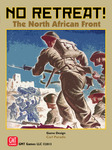 Files
Module Information
| | |
| --- | --- |
| Maintainer | bdgza |
| Contributors | bdgza |
Comments
The Invasion of Crete 1.1
Added transparent paradrop overlay for map
Added CA and CR marker
Fixed errata on card C04
Detachments can now flip to their cross/roundel side
Added a unit loss (numeric) counter window to keep track of losses
Added "Out of Play" command to all units to send to out of play window
Fixed bug where applying a loss to a unit was reported as recover
Changed graphics of counters
The North African Front 1.0.2
Fix for the maps:
Maps 1-4 contained wrong text in the Strategic Reserve Box. Has been corrected to match the (correct) printed maps.
The North African Front 1.0.1
Fixes to Sunflower scenario setup:
Changed Allied and Axis supply to 4 and 6 respectively
Changed initiative to Axis
The North African Front 1.0
Initial release.
The Invasion of Crete 1.0
Notes on cards --
Either player may look at either hand, but only the owning player can manipulate the hand
A masked card shows a green border to the owner (and the card back to others) -- an unmasked card has no border
Drawn cards are automatically masked -- discarded cards are automatically revealed
Cards should be drawn using the Draw Card buttons in the hand
The Turn 14 button in the toolbar removes card C12 from play (wherever it is), it will signal if the Draw Pile needs a reshuffle
Notes on counters --
All units for setup are placed on the Setup sheets in the Allies Setup and Axis Setup windows
Paradrop markers are attached to Axis paratrooper units. Use the right-click menu to remove them
The assigned number of Target/Counterblow and support markers should be taken from the Player Mat each turn, and placed somewhere on the map
Target/Counterblow and support markers can can be cleaned up during the Housekeeping phase by using the Housekeeping button in the toolbar, so they are moved back to the Userd Markers Holding Box on the Player Mat
No Supply and Axis Control markers can be placed by right-clicking on a friendly unit. The marker should be deleted manually.
Notes on optional counters --
Optional convoy markers from C3i can be found in the markers list and should be manually created/deleted
Optional Commando and CSS markers for the Allies can be found at the bottom of the Allies Setup window
Notes on Boxes --
The Boxes window is only visible to the Allied player
Units camouflaged should be placed around boxes in the Boxes window, the units positions are not given to the Axis player
Before placing the camouflaged units on the map the Allied player can use the toolbar menu in the Boxes window to report the camouflaged unit positions without moving them
Screen Shots
Players
bdgza
Pierre Miranda
Hank Burkhalter (Live VASSAL)